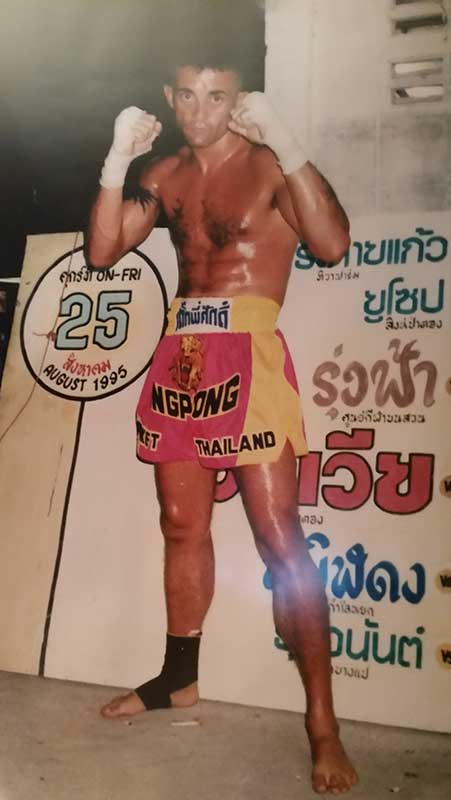 Olivier Gauthier is a warrior of the ring and French fighting pioneer who battled his way to the top of Thailand's Muay Thai ranks in the 80s, facing off with the national sport's toughest boxers, to carve out a an exclusive career as a professional Thai boxer turned trainer.
After settling in Thailand, Olivier began fighting professionally in 1980, foregoing a professional boxing career in France, which just didn't interest him. He did fight in France once, at a gala in Cannes in 1982, which ended quickly in victory with Olivier knocking out his opponent in the second round.
His boxing career in Thailand spans 36 years, fighting professionally from 1980 to 1987. After a three-year break, he stepped back into the ring in 1990, competing until 1995.
Olivier's prowess in the ring was founded on him being a very technical fighter with a style similar to that of French Muay Thai champion of the 1990s Guillaume Kerner, who mentored under the legendary Thai Muay Thai Heavyweight champion Pud Pad Noy. While still in France, Olivier trained at the Thai champion's gym in Paris, Club France Muay Thai.
Olivier has won 47 of his 58 professional fights in Thailand. With just eleven losses during his career in the ring, he ranks among the Top 10 in his weight category (under 67kg), having faced off with Thailand's top Thai boxing champions such as Lamtong, Santos, Mahachok, Komtap, Tongchai and Komphet.
For 15 years, Olivier fought under the banner of his camp in southern Phuket, Singpatong Gym, as well as occasionally training at Galaxy Gym in Bangkok, which is operated by former Muay Thai champion Kaosay Galaxy.
After retiring from a highly successful career in the Thai boxing ring, Olivier Gauthier turned his skills and experience to teaching others the art of Muay Thai, including coaching the French national Thai Boxing team, leading them to win the Amateur World Championship in 2000.
The French team included future champions such as Karim Saada, Pascal Benmati, Omar Oubaly, Sidy Koné, Charly Mephon and Gregory Poupaert, who also won the Amateur European Championships in the same year under Olivier Gauthier's guidance. So it's no surprise that Olivier Gauthier was awarded a diploma for 'Best coach of the year' in 2001!
Several of Thailand's Muay Thai champions have honed their skills as apprenticies under Olivier Gauthier's expert coaching, including: Singmanee Sor Srisompong (Radja Champion, WMC World Champion, WPMF World Champion, Isuzu Tournament Winner, Thai Fight Tournament Winner); Thepnakorn Sor Srisompong (Radja Champion, TV9 Champion); Jaroud (Lumpinee Champion, World Champion); and Krom San (Radja Vice Champion).
Olivier Gauthier's world-wide notoriety as a professional Muay Thai coach has attracted many foreign champions to train under him, especially French boxers from Sit O Inter Gym. Best known are Guillaume Kerner (Thai Boxing World Champion, European Boxing Champion); Wilfried Montagne (European Thai Boxing Champion); Johann Fauveau (French Thai Boxing Champion); Benjamin Pouillon (European K1 Champion); Laurent Carrere (Kick Boxing World Champion), Yannick Foeller (French Boxing World Champion), Cédric Castagna (World Chauss' Fight Champion, European Kick Boxing Champion); and Rachid Jkitou (English Boxing Champion of France).